Sue is a trusted policy expert and voice for seniors and people with disabilities.
Here is Sue's recent interview on CBC Radio..
https://www.cbc.ca/listen/live-radio/1-193-fresh-air/clip/15801436-author-sue-lantz-book-options-open-guide-mapping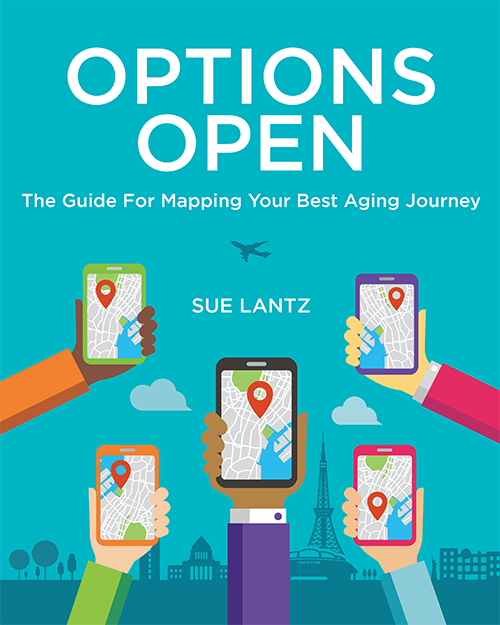 Respected, Industry Leader
Sue Lantz, BA, MPA, is a passionate advocate for resourceful and grassroots housing, healthcare, and neighbourhood solutions that build connected and inclusive communities. Sue is a trusted policy expert and voice for seniors and people with disabilities. She has worked over many years in Canada to generate innovative home care and housing alternatives to institutional living.
Sue Lantz is the Founder and Managing Director of Collaborative Aging, a creative consulting firm that supports organizations, businesses, and communities to expand the options for aging in place. Working with a range of organizations, Sue delivers customized workshops on various topics related to aging. She has been engaged by provincial agencies, non-profit community care organizations, and partnered with private sector developers. Sue co-lead a citizen-led housing solutions initiative for seniors with federal funding support. For more information on this project, visit: www.co-createhousing.com
Sue speaks regularly on the topic of healthy and empowered aging and caregiving. She helps people understand how making choices to age in the right places with the right supports is key to having a better aging experience. The Options Open: Guide to Mapping Your Best Aging Journey, is the culmination of her early family experiences combined with various policy research, consultation and design projects that Sue has led.
Sue serves on the Board of Directors for a global organization called, 880 Cities, and she is a long-time member of the Seniors Strategy 2.0 Table in the City of Toronto.
Previously, Sue served as an inaugural member of the Advisory Board for the National Institute on Ageing (based at Toronto Metropolitan University) a policy "think tank" in Canada. She was previously a member of the Technical Advisory Committee on Accessibility for the Canadian Standards Association (CSA).
What industry experts say about Sue Lantz…
Provides aging boomers with a practical framework to lead, plan, and organize cost-effective housing and healthcare solutions in collaboration with others. How awesome is that? A flexible and creative road map for aging on one's own terms—in the right places with optimal supports.

Aura Brooks

Graphic Designer, Owl Eyes
It was really fun getting to know the team during the project. They were all helpful in answering my questions and made me feel completely at ease. The design ended up being twice as good as I could have ever envisioned!

Eve Crawford

Product Designer, That Biz
I'm wondering why I never contacted these guys sooner! Seriously, they all have commendable talent in their respective fields and knocked my concept out of the ballpark. Thanks for an amazing experience!

Jack Graham

Co founder, Coffee Inc
Salient is by far the most astonishing WP theme out there! I literally could not be happier that I chose to buy your theme! Your regular updates and superb attention to detail blows me away every time I visit my new site!

Zak Reid

Instructor, Skate Nao